Who are we?
The Young Women's Giving Society (YWGS) is a giving circle of Jewish Pittsburgh women, ages 25 to 45, engaged in socially active and collective philanthropy to improve the lives of women and girls in our community.


What's a giving circle?
Though generally you should not believe everything you read on Wikipedia, in this case Wikipedia actually provides a helpful (and brief) overview of giving circles.


What is the purpose of YWGS?
Through the YWGS, we will come together to learn about issues and challenges affecting women and girls in the Pittsburgh community, and we will impact positive change by pooling and directing our resources. By participating in collaborative and strategic grantmaking, we will also become empowered in our own personal philanthropy.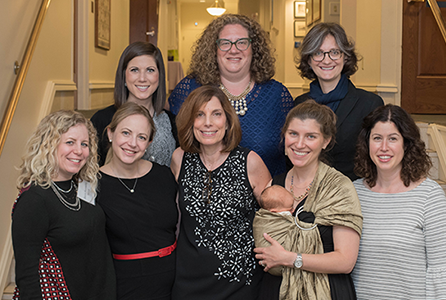 What will the YWGS do?
During this first programming year, the YWGS will focus our efforts on learning about and contributing to community non-profit agencies working with adolescent girls in the Pittsburgh area. Our first meeting—on Thursday, November 3—will highlight "The State of Adolescent Girls in the Pittsburgh Community." After our kick-off meeting, YWGS members will divide into three Committees, each focusing on one of the following topics: (1) best practices to improve education and empowerment of adolescent girls; (2) experiences of adolescent girls enduring, or at risk of, homelessness or human trafficking; and (3) behavioral health concerns of adolescent girls. Committee members will determine which non-profit agencies will be invited to speak to the larger group on each of these three topics, and invited agencies will become eligible for YWGS funding. At the end of our programming year, in late Spring 2017, YWGS members will decide as a group how we want to donate our collective YWGS funds. Check out our Program Calendar on page 3 for more details and relevant dates.


What contribution does the YWGS require?
We are asking each member of the Young Women's Giving Society to contribute $300 to our giving circle for this first programming year. At least $250 of each person's contribution will go to our funding pool for the purpose of distributing a grant or grants to one or more non-profit agencies whose work supports our mission of positively impacting adolescent girls in the Pittsburgh area. (The remaining $50 or less will be used to cover programming and refreshments at our meetings.) Please contact Judy Greenwald Cohen (information below) regarding payment schedules.


How and why was the YWGS formed?
We come together as a giving circle with the support and encouragement of the Jewish Women's Foundation of Greater Pittsburgh (JWF). JWF was founded in 2000 to create lasting social change in the lives of women and girls in the Jewish and general communities. It offers its members (Trustees) the opportunity to participate in the strategic direction and distribution of JWF's annual grantmaking. 145 women have invested in JWF since its inception.
Wishing to expand JWF's impact and to encourage philanthropy and leadership growth among younger women in the Pittsburgh Jewish community, the JWF Trustees decided to start a giving circle for younger women. JWF tapped Kara DiBiase and Lisa Zeidner Marcus—the daughter and daughter-in-law, respectively, of two JWF Trustees—to co-chair the YWGS's first programming year. JWF's Executive Director, Judy Greenwald Cohen, has been meeting with Kara and Lisa throughout the summer and early fall to start planning YWGS's year, and she will continue to provide administrative (and moral!) support and guidance to the YWGS. The JWF will provide the YWGS with matching funds up to $6,250, to double the giving power of the YWGS. While the JWF will provide oversight and support, the YWGS and its leadership will make all programming and funding decisions for YWGS.

| TOP OF PAGE |